Forty on average. Just about the size of a Legends of Runeterra deck, I'd say.
It's been a couple of weeks since the balance patch for Legends of Runeterra, and right now, it is a good time to play this card game. As the nerfs to burn paved the way for newer decks, one of the biggest surprises is the rise of a champion from an underwhelming region: Sejuani, Fury of the North.
Blue is the New Pink
That small bump in Karma's mana cost actually did her in. While the strategy is still to play her on Turn 10 or so, costing six created space for other champions to be viable around that timing. Sejuani is the biggest benefactor from this, as being in line with The Enlightened One brought out her true strengths: board impact and lockdown potential.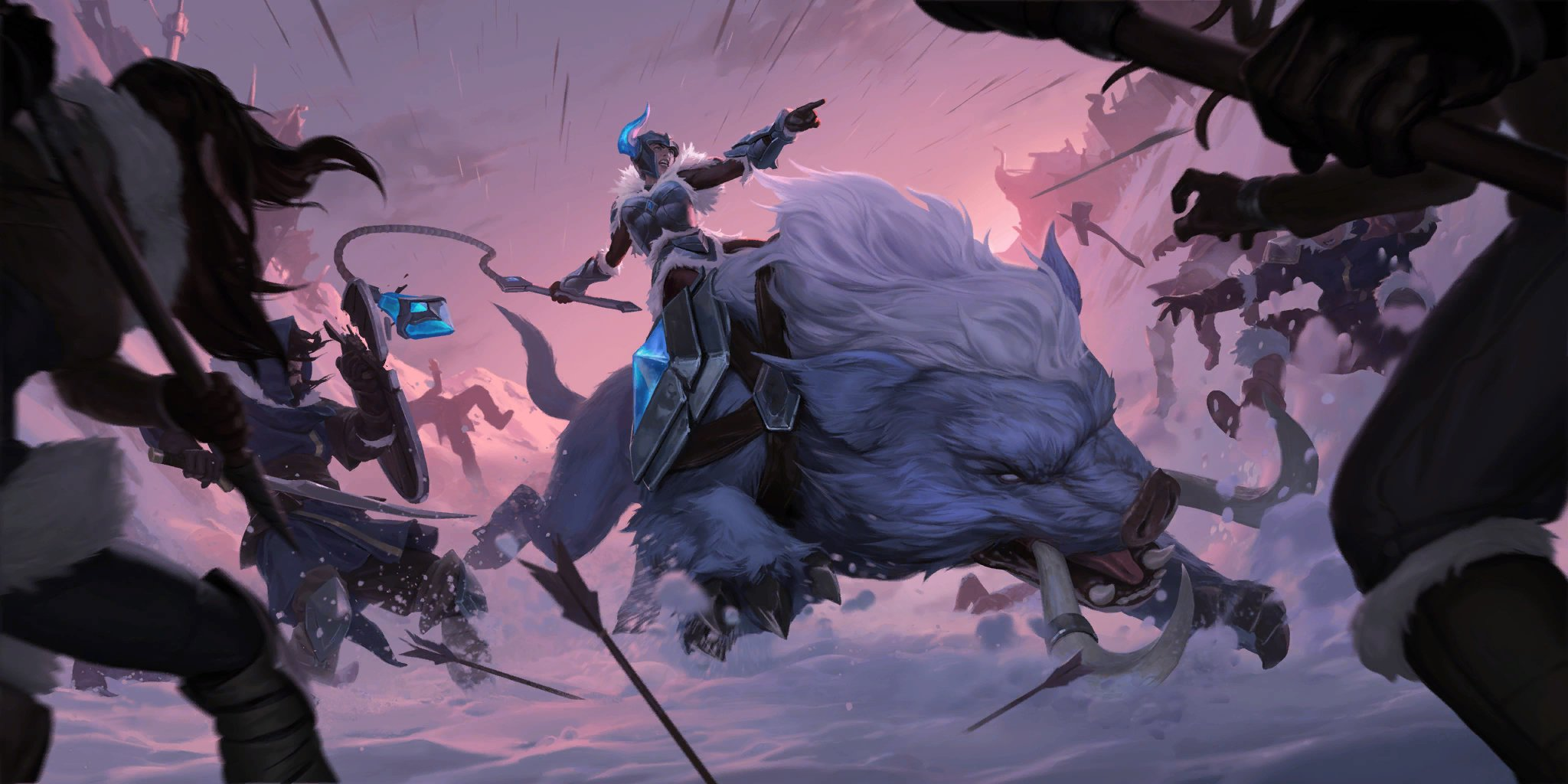 Stayin' Frosty 
Many powerful champions, such as Ezreal and the aforementioned Karma, lack instantaneous power. Decks need to be built around them in order for them to shine.
Sejuani doesn't need all that. She's an independent boar-riding queen who don't need no help. Her play effect is immediate and impactful. Being able to disable a key unit at turn 6, when many high-value cards are already on the board, can shift the tides drastically in your favor. Might just win you the game at times. 
Once leveled up, Sejuani practically hands you the game. Not even the controlly-est of control and the combo-est of combo decks in LoR are able to create such a powerful lockdown scenario as she does. And with the current metagame, she is at the right spot to become a powerhouse.
Vanilla with Sprinkles
Speaking of the meta, it is super duper fun right now, with a multitude of decks viable for ladder. As the power shifted off aggro and control and towards midrange, Sejuani decks have started charging through the ranks. The most popular variations are Bilgewater Tempo (Miss Fortune and Plunder), Noxus Ashe (Frostbites and Reckoning), and Noxus Swain (Swain and Leviathan). 
There's even a Teemo variation and honestly, this one triggers me so much cause of those mushrooms even though the idea makes so much sense— 
The point is, from outta nowhere, Sejuani has become queen. Freljord decks are everywhere.
Well, more like, Sejuani decks are everywhere. As prevalent as Freljord is, it may be that it's just Sejuani carrying the entire icy region on her back.
Ban Freljord? In This Economy?
There is one thing that Freljord as a region can be proud of: the tournament scene. While Riot hasn't made an official format, the standard looks to be conquest with a region ban and region-lock clause. As Sejuani is now one of the more dominant decks, simply banning Ionia isn't as easy as before. Now, competitors are left with a tough choice on which deck they'd rather deal with, which makes preparation and strategy much deeper and more complex. And that, makes good esports. 
A Ripple Effect Metaphor, But With Snow
Looking at the 1.2 patch notes and the current state of Legends of Runeterra, it's important for us to see the metagame as a series of connections. A small change in one card can greatly affect another, even if the latter remains untouched. Card games in general are about chain reactions, not singular instances. 
Sometimes, all it takes is that one tiny push on a snowball for it to become an avalanche.
See you around, fellow cardslingers.
Now Reading: 30 to 50 Feral Cards: The Rise of Sejuani